Overcoming stereotypes: the power of a female athlete at the worksite
Published 1.11.2021
Discover the story of Aline Ferreira, Safety Technician at the Jaguatirica II project, a champion weightlifter who bags medal after medal for her performances in a sport known for having few female competitors.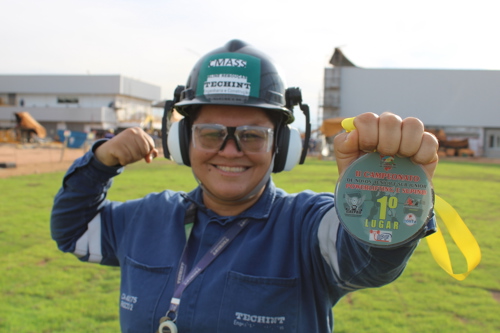 A simple invitation to go to the gym ended up taking Aline Rebouças Ferreira from the worksite to the podium. Aline is a Safety Technician at the Jaguatirica II project, in Boa Vista, northern Brazil, and in barely a year, went from novice to winning four medals in the regional weightlifting championships, including the second Roraima State Powerlifting and Bench Press Championships, where she placed first after lifting a 160-kg bar from the floor to chest height.
"At the gym in Roraima, my trainer said that I had everything I needed to be a Powerlifting athlete. That was the moment when I saw the challenge—and when someone throws me a challenge, I take it up right away. But I'd never even heard of the sport before then", recalls Aline, who started practicing powerlifting at the age of 32, while studying Civil Engineering at college and taking advantage of her lunch breaks at work to train.
Powerlifting, or weightlifting, is a strength sport where the athlete seeks to lift as much weight as possible in each of the three modalities: squat, bench press and deadlift. Officially recognized as a sport in 1960, it was only in 1973 when the International Powerlifting Federation (IPF) was founded.
The important thing is to start
Aline started out lifting 40 kg and rapidly scaled up, passing 50 kg, then 60 kg, to finally reach 160 kg: "I like to tackle challenges head-on, and I consider myself to be a brave person," she says.
Born in Fortaleza, in the northeastern state of Ceará, she attributes her determination and stamina to her father, who inspired her by way of example: "My father is a real role model for bravery, he used to work as a fisherman and was often traveling, but he always did everything he could to give my sister and me the best. His courage is what motivates me to excel at sport and in my profession."
Aline also explains that the sport taught her more about discipline and resilience, in addition to keeping her fit enough to cover the 6 to 8 kilometers a day needed during the safety inspection of the thermoelectric power plant project. "Safety for me is a life mission and a core value for Techint E&C", she says.
A sport for everyone
Weightlifting first featured in the modern Olympic Games at the Athens inaugural edition, in 1896, as one of the field track and athletics events for men. Women only started competing in weightlifting contests at the Sydney Olympics in 2000, 104 years later. At that edition, Brazil was represented by female weightlifter Maria Elisabete Jorge, known as "Bete do Peso". More recently, at the 2020 Tokyo Games, Brazil however failed to make it to the coveted winners' podium.
Although she has never felt discriminated against for being a woman in this sport, Aline is firmly convinced that more women should take part: "Sport is for everyone, so it's important for more women to practice weightlifting without worrying that people are judging them."
Although weightlifting contests at the local level were canceled in March 2020 due to the Covid-19 pandemic, Aline has every intention of resuming her demanding training schedule as soon as possible with a view to competing in the Olympics in the future.