Building projects, breaking down prejudices: the challenges of a woman production engineer in Brazil
Published 14.3.2022
Andressa de Oliveira has been working with Techint E&C since 2015. Today, she's the Production Coordinator at the challenging Parnaíba V project, the thermoelectric power plant that, when completed, will generate 386 MW of energy for Brazil.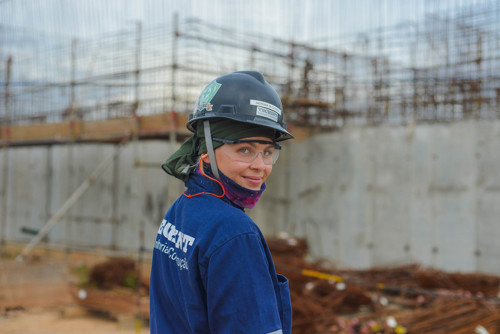 Even today, being a woman engineer in Brazil is quite a challenge given all the hurdles to be overcome. And if you add the complications involved in coordinating a sizable part of a megaproject such as Parnaíba V, then the achievement is twofold. "Although people don't say this out loud, it's common knowledge that the construction industry, being predominantly male, is riddled with prejudice," says Andressa.
"Although it's got a lot better since I started, I still see how difficult it is for women. There are far fewer colleagues working directly in the field or in leadership positions," she explains.
Andressa is a Civil Engineer who graduated from the Federal Technological University of Paraná, and chose this profession for two reasons: "To begin with, I always liked Math, and then, the thing that fascinated me about Engineering was the chance to do something to benefit society. Working in the field is very visual, you can see progress on a daily basis and when you've finished, you can see what you built, how you led people, the legacy you leave behind."
When she was offered the opportunity to participate in the operational area of this project, a little over two years ago, she didn't think twice. "This was my first time working in the field for Techint, so logically, there was an adaptation period where I learned to apply in practice the procedures I'd been trained to do in theory. Participating in a concrete casting operation lasting over twenty-four hours non-stop was a massive professional challenge, since I was involved in everything, from the organization of what was needed prior to the operation, to supervising every aspect of the concrete casting process on the day itself," comments Andressa.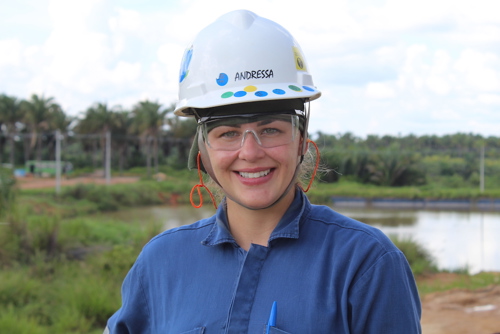 Located in the small municipality of Santo Antônio dos Lopes, the Parnaíba V complex belongs to the Eneva company, which is responsible for 46% of the North subsystem's installed thermal generation capacity and 11% of the country's installed gas generation capacity.
Once the project is over, one thing is for sure: neither Andressa nor Brazil will ever be the same again. She's also optimistic about a bright future for women in the industry. "I think there's a lot of room for us here. The benefits we bring are that we are highly organized, determined and strongly committed to achieving goals, which also contributes to improving the industry as a whole. I see that we are becoming more and more skilled and capable and, as we have to overcome so many obstacles to get to these positions, we are highly committed and tough enough to overcome any challenge."