From north to south and from east to west: a supervisor for all seasons
Published 2.3.2022
What Fernando Oggianu most enjoys is 'getting stuck into new projects'. From his early days in Campana to his experiences in France and Saudi Arabia, he's spent over three-and-a-half decades at Techint E&C, a man who's left a very special mark on each of the teams he's been involved with.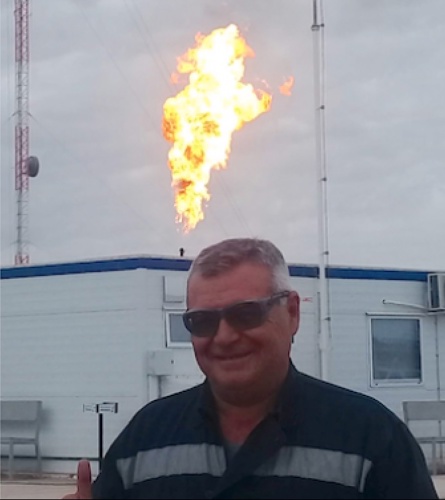 Fernando Oggianu joined Techint E&C in 1984, at the TenarisSiderca plant in Campana, Argentina, at a time when the continuous rolling mill (LACO 2) was still under way. After seven years of work in Campana, when the Sociedad Mixta Siderúrgica Argentina (Somisa) was privatized, he moved to the Ternium Siderar plant in San Nicolás, also in the province of Buenos Aires. There, as he himself describes, he was involved "in the greatest of all projects," one of the most challenging and ambitious works of his career, which he still remembers with special affection. This was the start of a new stage marked by adventures and achievements: a year and a half at the degassing plant in Dunkirk, France, nine months in Saudi Arabia, and his time at Fortin de Piedra, among other destinations and projects.
With San Nicolás engraved on his heart
For Fernando, one of the key locations in his career has been the Ternium Siderar plant in San Nicolas. That was his base, as he often returned there between assignments to international or national large-scale projects, such as the start-up of Blast Furnace 1 and the extraordinary repairs at Blast Furnace 2. "My career has its roots in San Nicolas when it was all just beginning, and nothing was there. I was involved from the start in the first improvements and the complete automation of the rolling mill, the continuous casting line, and the three relining blast furnace. As a general rule, I was always assigned to larger projects, which were very demanding and extremely well planned. At a professional level, those were the projects I enjoyed the most."
Saudi Arabia and France: living life in a movie setting
Fernando enthusiastically describes two other postings to projects abroad. "I spent nine months at a Techint E&C project in Saudi Arabia, quite a complicated country… we were living in a camp in the desert, with camels just like Lawrence of Arabia. The nearest town was 18 kilometers away, and it was really tiny. But I have good memories of this posting: on the weekends, I and three colleagues used to take off and go sightseeing. Although we had to be careful, it was very interesting. I also remember when I went to France, which was very positive: in mid-2014 I was sent to Dunkirk for eighteen months, to participate in a project to build a degassing plant, which was being prepared to receive LNG off special tankers and gasify it before sending it into the distribution networks."
A nomadic soul: an unusual resource
Fernando points out that it's hard these days to find young people willing to move around regularly to meet different project requirements, particularly those who are prepared to live in crew camps in the middle of nowhere. "Our work isn't easy, and it's difficult to find young people with a truly 'nomadic soul'. When projects are being developed in or near a city, that's one thing, but when they are far away in remote locations, such as Fortin de Piedra, it's something else."
For the works being built in Vaca Muerta, Fernando remembers how they used to go out to recruit technicians from Neuquen to be trained. They did the rounds of schools to find suitable candidates. "Some were quite keen to join until they discovered that they were going to have live in a camp, and eventually only one of the eight or nine candidates accepted, and it was a woman."
He's the first to admit that it's not easy to make family life function when you have to be away for so long with jobs of this type. When they moved back from Venezuela, as his children were older, he began to travel alone, seeing his family on weekends or even less often. "Luckily, my wife has always supported me," he says.
The adrenaline of starting up a new project
When it comes to those things that give him the greatest satisfaction in his work, Fernando is quick to respond. "What I enjoy the most is seeing the start-up moment, that's when the machine, plant or tool you've been working on is started up for the first time. I've lived through the life of projects since they were nothing but a muddy hole in the ground. The satisfaction you feel when everything lights up is a really intense emotion and I even lose track of time, as I'm so overwhelmed by the excitement of the moment. I remember back in the 1980s, when I was at Siderca and there were no cell phones, I ended up having to go out looking for a payphone at dawn so I could tell my family not to worry. I miss that adrenalin."