"The harder the task, the more gratifying it is for me to do"
Published 23.3.2022
The son of a pipeline welder who also worked for the company, Carlos Lizarde enjoys challenging projects and takes immense pride in his work at Techint E&C, something which runs in his blood. He's been with the company for over twenty years and currently works as a supervisor at the Ensenada Barragán Thermal Power Plant, in Argentina.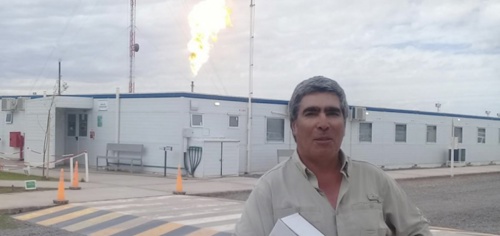 Carlos Lizarde defines himself as a working man, "straight and simple", who immensely enjoys his profession as well as leading teams. The son of a company employee, he joined the group at the end of 1999, when he began working as an Electricity Manager for Tenaris Siderca in Campana, province of Buenos Aires. He's taken part in several projects throughout his time with the group's companies, mostly in Argentina: El Tordillo for Tecpetrol in Comodoro Rivadavia, the Pirquitas mine in Jujuy, the High Silo Line at Blast Furnace 2 for Ternium Siderar in the province of Buenos Aires. He's worked at the El Bracho thermal power plant in Tucuman, he's spent time at the Fortin de Piedra development in Patagonia and he's also worked at the Los Bronces Development Project, where the customer was CAP Minería, specifically for the Escondida Water Supply.
Carlos is currently General Supervisor of Electricity and Instruments at the Ensenada Barragán Thermal Power Plant in the province of Buenos Aires. In this project, Techint E&C, in a joint venture with SACDE (the Argentine Society for Construction and Strategic Development), is developing the completion and start-up of two heat recovery boilers and a water treatment system.
Preaching by example
Carlos's team at the Ensenada de Barragán power plant is currently forty-four people-strong, and the idea is to gradually increase this number as the project progresses to 280. There are certainly key attributes required to lead such a large team, and Carlos explains that one of these is "knowing how to listen to other people, and share experiences and knowledge, as this allows communication to flow naturally."
In his case, Carlos shaped his leadership skills during his years of experience on the construction site. "I always had respectful and receptive bosses who were generous with their knowledge, and encouraged me to express myself freely. All of this has undoubtedly helped to teach me to act in the same way."
Carlos is clear that to earn his team's respect, it's essential to lead by example, as, "you have to follow through on what you undertook to do, you have to do things right and be consistent in everything. I consider myself a very upright, fair person and I have no favorites."
He recalls those times when he had to have difficult conversation with people he cared about, sometimes having to pull long-time colleagues off projects. "If I have to do something like that, I do it with a steady hand. Obviously, it's painful and unpleasant, but I think it's my job. Everyone already knows me, and despite that, they want to work with me. They always warn new team members what I'm like… to avoid any surprises."
Getting the work-life balance right
Carlos had first-hand experience of what it's like to have a father involved in engineering and construction projects. In fact, his father worked at Techint for many years in welding for pipeline development. "I always wanted to work at Techint like my Dad, I'm sure it's in my blood," he acknowledges. Carlos knows what it's like to have to move from one city to the next repeatedly, to have to say goodbye to new-found friends, and wait up late for his father to arrive home from work, or only be able to enjoy his company on weekends.
It's not always easy to find harmony. "Balancing family and professional life has been my biggest challenge. I found it hard when my children were in their teens, which was just when I started working at Campana, and I had to travel and be away from home for longer."
Carlos and his family lived in Ituzaingó and since it was a long way to Campana, sometimes he only came home on weekends. His reiterated absences, he recalls, made life hard for everyone. "My children dropped out of school…. It was only later that they returned to their studies, and now one is graduating as a Systems Engineer."
From a distance, he concludes that these questions were ultimately resolved, but it was not easy. "You have to find solutions and take decisions on a day-to-day basis. There are no magic recipes."
The pleasures of "spoiling" the grandchildren
Now Carlos is fifty-nine, life has blessed him with various rewards. The best are his grandchildren, whom he visits on Sunday, his day off. "I continue to enjoy my work routine, which starts at every day at 5:15 in the morning with a steaming hot cup of strong coffee." On Sunday, Carlos enjoys family life, particularly playing with his grandchildren who are his pride and joy. He also enjoys hiking, reading about politics and economics, and playing paddle tennis. But there's no doubt that the best thing is spending time with the little ones in the family. "Being a grandfather is so much easier than being a father, you can spoil your grandchildren to your heart's content," he says.
Learning from generational differences
Carlos sees how in his profession there are generational changes that he initially found hard to get used to. "Young people are surprised by our pace of work, endurance and dedication. They think that work is important, but so are other things in their lives, which they're not willing to give up."
At first, it was difficult for Carlos to accept this alternative vision of things, but over time he ended up understanding the younger generation better. Beyond these differences, for Carlos, the main thing is to be able to transmit the value of work to the youngest members of the team, and he never fails to emphasize the importance of attending as many training sessions as possible. "We are lucky to work in a large international company like Techint, which gives us the opportunity to train and grow, and offers us a vast range of resources for us to develop as professionals." 
Strength in unity
Carlos prefers those projects that require him to put in maximum effort. "The harder the task, the harder I work to get it done as well as possible. The good thing about complex projects is that once they get started, they create a huge sense of gratification."
Over the course of his career, he's had the opportunity to participate in several of the company's most complex projects, but Fortin de Piedra in Vaca Muerta, was without a doubt the most challenging. "We were up against the clock, we were conditioned by the spaced-out arrival times of the materials and we were working with highly trained and demanding professionals. It was a very dynamic project and, since we all lived in the camp, we were able to dedicate long hours to get things done."
In that case, there certainly was strength in unity, which also enhanced teamwork. In fact, one of the striking aspects of this project was the strong sense of belonging which was felt throughout the team. "It was enormously gratifying to feel that, beyond the physical efforts we were making, we were all proud to be there, to 'belong'. Because when you're away from home, you become very close to your co-workers, creating a very energizing team spirit. We all wanted to be present as much as possible, so as not to miss anything."