Colombia: Pendare to restart operations
Published 15.6.2021
Work on the project is being resumed after a year of inactivity due to the COVID-19 pandemic.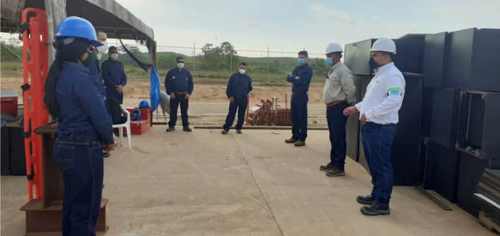 The project to build the Pendare oil dehydration and water treatment plant lies in the municipality of Puerto Gaitán, in the Department of Meta in the Los Llanos Orientales Basin.
The civil works started in January 2019, but as a result of the pandemic and the impact of the prevention measures on building operations, Tecpetrol was forced to suspend work on the project at the end of March 2020.
One year later, the reactivation of Pendare is finally happening: on april, Tecpetrol asked Techint E&C to continue with the construction and commissioning of the CPF.
Juan Zuleta, Pendare Site Manager, provides more details: "Activities are starting up again progressively, with strict health and safety protocols to safeguard the physical integrity of all employees."
He adds that "Our customer Tecpetrol has shared a comprehensive range of safety procedures and practices for us to follow with them, including preventive mandatory isolation for all personnel four days prior to entering the site. There also requirements for a negative PCR test and a medical exam, both of which are being handled by the customer for the time being."
The works schedule envisages reconditioning tasks continuing until the end of May, followed by the construction phase, expected to reach mechanical completion in October, by which time there should be some 400 employees on site at the peak of work. In the final phase, which will extend into November, the company will be helping the customer with the commissioning.
Juan highlights the biggest challenges: "In order to get the project going again—as it was put on hold when we were 65% of the way through at the end of March 2020—and finish it in time and on budget, our focus is on speeding up the work effectiveness curve of our employees." He also brings up the challenges involved in adapting to biosafety requirements in this context: "We don't have the experience of working on this project in pandemic times, so we need to pay extra attention to staff training to preempt any type of contagion."
Ernesto Lopez, Head of HR, explains that "our success in tackling this challenge is largely dependent on the effectiveness of our training which plays a very important role, as it's not only about giving talks, but also about making sure people take the measures on board and apply all the rules regarding personal care." He adds that, from the point of view of Human Resources, another central point is the hiring of personnel, "which we are doing efficiently, prioritizing gender equality as well as the local work force, both for professional and operational positions."
Juan concludes that "our customer is an industrial benchmark for safety, so we're complementing their standards to reinforce their values with our own culture. Also, they're entrusting us with the completion of a key project for their development both in the country and in the region."