Gabriela Vila: "It was really encouraging to see that the company I work for places such a value on the health of employees, whatever the problem."
Published 13.9.2021
Gabriela is a chemical engineer and she is from Argentina. She has been working at Techint Engineering & Construction since 2016, the year she was diagnosed with a rare disease. With the support of her boss, she moved to Brazil in search of a more benign climate for her physical and emotional health. "The company really looks after those of us needing special care."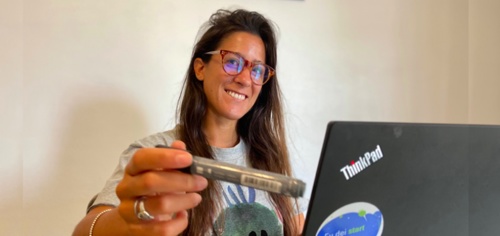 Gabriela Vila began work in the Process Engineering area of Techint E&C in 2016. That same year, she was diagnosed with Systemic Sclerosis, also known as Diffuse Scleroderma or Crest Syndrome. When she found out, it came as a major shock: "I had a full-on physical and emotional crisis. I couldn't even figure out how I felt about it, as I was in such anguish, I was obsessing over how I would get up the next morning," she recalls.
Diffuse scleroderma is an autoimmune disease where excess collagen is produced, thickening the skin over large areas of the body and hardening internal organs such as the GI tract, heart, lungs, and kidneys, to differing degrees. This is a very rare, chronic, and incurable disease, but there are various treatment options and the possibility of adapting to a lifestyle according to individual needs. Most patients diagnosed are women between the ages of 20 and 40, with active social and work lives.
Gabriela, aged 36, is one of those women who have to deal with the disease. One of the symptoms she has is Raynaud's Syndrome, a problem that causes decreased blood flow to the extremities, such as fingers and toes, leading to changes in color, numbness, and the possibility of ulcers (mainly in the hands and feet). This happens due to spasms of blood vessels in those areas in response to cold, stress, or emotional upset, with air conditioning being a prime factor. "This meant I had to keep warm, which made my work at the office difficult. In Buenos Aires, when autumn arrived, I had to start wearing gloves and taking vasodilator medication which lasted all through the winter, until the end of spring. I remember having to wear gloves in the office, and everyone telling me that I was exaggerating. I found it very distressing to have to explain what was happening to me."
In 2016, she had the opportunity to do a study exchange scheme abroad, and the company gave her leave to continue with an MBA and Innovation Management training in Vienna, Austria. After returning, in 2018, she joined the Innovation team, which at the time was run by Juan Lovey, later replaced by Guillermo Cremaschi in Argentina.
It is clear that dealing with her illness at work was no easy task. "It was a steep learning curve. Before the pandemic started, I went into detail about what was happening to me with my boss."
And that was how the possibility of going to work in Sao Paulo, Brazil, came about. An assignment not only aligned with her professional development and growth but also with caring for her physical and emotional well-being, in search of a more benign climate. "This opened up new opportunities for me to improve my health. It was really gratifying to see that the company I work for places such value on the health of employees, whatever the problem. I can honestly say that thanks to Guillermo Cremaschi's help, I was able to change my life," she explains.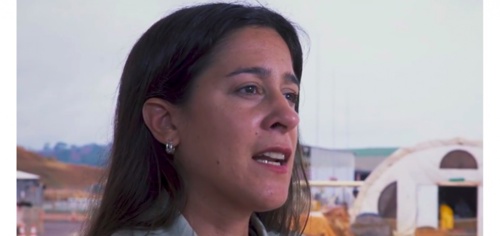 In the current pandemic context, Gabriela is in a risk group because of the immunosuppression caused by the medication taken to control her arthritis and remission. However, she continued working from home with very good results. This is how she explains it: "Being at home helped me to improve all my symptoms as it meant I could focus on additional routines and be able to follow a healthy diet, rest, and not be exposed to the cold. In this sense, the company really looks after people needing special care. I especially want to thank Renato de Andrade, my current boss in Brazil, for his support and transformative leadership."
Techint E&C has always prioritized the health of its employees but, according to Gabriela, the arrival of COVID-19 threw this into relief: there was a major improvement in the empathy expressed with those suffering from different pathologies. In some way, "the pandemic helped to raise awareness across the board about the importance of taking care of each other," she expresses.
After sharing her story on LinkedIn, Gabriela received a torrent of comments and inquiries. She affirms that "If someone is going through something like this, please don't hesitate to contact me. I am fully available to talk to everyone, as well as the entire PwD (People with Disabilities) affinity group I'm a member of in Brazil through the Diversity and Inclusion program. In my case, meeting other people living with this disease who are older, made me understand why they chose to opt-out of winter. I can safely say that I too am going that way, thanks to the company's support."