Published 20.8.2021
The construction of the new Hot Rolling Mill at the Ternium Industrial Center in Pesqueria involved over 9 million labor hours. In this project, the combined weight of structures and assembled equipment came to 40 thousand tons, while 1,200 tons of pipes were laid in a vast underground basement.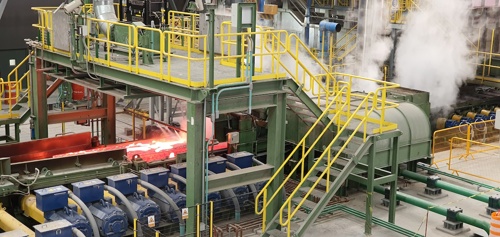 The start-up of the Rolling Mill is the conclusion of a colossal effort which took 9.1 million construction labor-hours, a number every bit as impressive as others reached during the project: 99 thousand m3 of cast concrete, 25 thousand tons of mechanical equipment, 15 thousand tons of structures assembled, 4.8 thousand tons of pipes, and 2.1 million meters of cabling. The demanding work requirements meant that at the peak of activity, some 2,343 workers were on-site.
The new Hot Rolling Mill at the Ternium Industrial Center in Pesqueria, Mexico, came to life in mid-May, as its first two steel coils came off the production line. Present to witness this momentous event was Cesar Jimenez, the company's Executive President, who declared that "This is a major milestone for us, the result of the hard work of so many people who poured their dedication into the project for all this time. It's a success for the whole team."
Techint E&C was represented by Leonardo Litz, Project Manager; Sebastian Costa, Construction Manager; Pablo Arena, Sebastián Vitelli, Leopoldo Ventura and Angel Reyes, the Area Chiefs; Roberto Villalba, QHSE Head; Juan Fernando Renteria, Chief of PyCP; Rogelio Martinez, Civil Works Superintendent; Nestor Anchaño, Pipelines Superintendent; Agustin Bertorello, Structures Superintendent; Lazaro Bertorello, Mechanical Superintendent, and Alejandro Oyola, Electrical Superintendent.
"This project presented us with quite a unique set of challenges. On hold for almost four months due to the COVID-19 pandemic, we gradually resumed activities to find ourselves facing a clear mission: to meet a tight schedule, taking extreme precautions to safeguard the health and safety of our personnel at all times," explained Leonardo Litz.
The Hot Rolling Mill is already fully operational and on target to produce over 4 million tons per year of specialized steel for the automotive and white goods industries. The mill is capable of manufacturing steels as thin as 1.2 mm and as thick as 24.5 mm and can roll widths from 900 to 1,950 mm.
The mill facilities include a slab yard, two reheating furnaces, two reversible ones, a finisher, two roller machines, and a coil cooling yard. Together with the Galvanized and Painted lines, which Techint E&C also built, the project is part of phase 2 of the Ternium Industrial Center.
In addition, as part of the customer's environmental efforts, the Hot Rolling Mill has been built with state-of-the-art equipment for more environmentally friendly processes, such as a water treatment plant, and a cooling system equipped with high water recycling capabilities as well as a rainwater catchment channel.
For the Techint E&C team, the complexity of the project lay in coordinating the execution of activities with other contractors, to avoid tasks overlapping and crowding personnel together.
According to Sebastián Costa, one of the principal challenges was the installation of the piping, which required detailed planning: "We had to assemble 1,200 tons of pipe in the underground basement, in areas that were very difficult for cranes and other large pieces of equipment to access."