A state-of-the-art, automated and sustainable laminator
Published 20.9.2021
We're launching a video of the project carried out by Techint E&C for Ternium in Mexico. The new rolling mill will make it possible to substitute imports of specialized steel.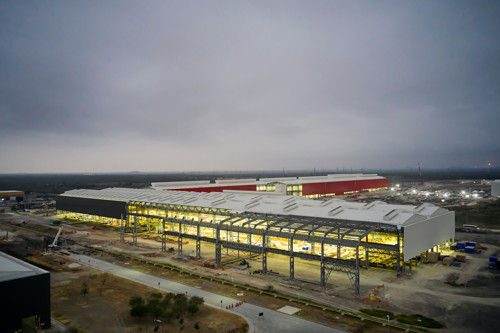 Ternium's Hot Rolling Mill at its Industrial Center in Pesqueria began operating in June 2021, producing steels for the automotive and white goods industries.
Making sure its start-up happened on time required 9 million labor hours of construction and involved more than 2,300 people at the peak of activity.
The extraordinary efforts made by Techint E&C team of workers, even in pandemic times, meant that 25,000 tons of mechanical equipment, 15,000 tons of structures, 4,800 tons of pipes, and 2,000 kilometers of wiring could be successfully installed and laid.
The results? One of the most modern mills in Latin America, designed to roll thicknesses ranging from as thin as 1.2 millimeters to 25.4 millimeters, and widths from 900 to 1,950 millimeters.
In addition to its automated operations, the mill has state-of-the-art equipment and 6,000 sensors able to guarantee unbeatable precision in operations as well as a product labeling robot that works with automatic strapping machines.
Aligned with Ternium's commitment in its mission to improve its industrial competitiveness, the mill has a water treatment plant, a cooling system with a high capacity to recycle water, and a rainwater catchment channel.
Find out more about this mega project by hearing from some of its protagonists.