All-time record: 1,000 boats for Carbonser
Published 13.5.2022
The terminal is operated by Carbonser, a consortium formed by Techint E&C and Grupo Mexicano de Desarrollo. It is responsible for unloading, storage in yards and shipment of coal to supply the Thermoelectric Power Plant of the Federal Electricity Commission (CFE), "Plutarco Elías Calles", located in Petacalco, Guerrero, 14 kilometers away from the port of Michoacan. This plant contributes 8% of Mexico's energy generation and is considered one of the largest of its kind in Latin America.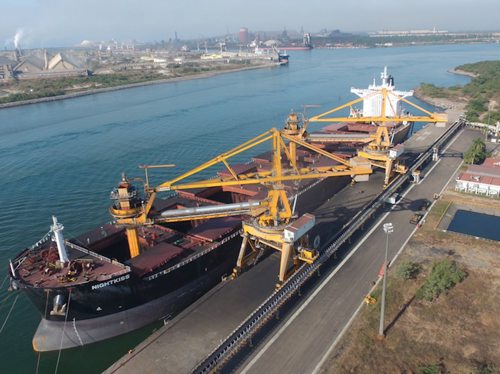 The first ship that received Carbonser, was back in 1999 an Ocean Navigator as part of the beginning of the plant's operations. Currently, in docks of 355 meters long, the Coal Terminal unloads ships of 150 thousand tons, with a draft of 16.5 meters, which makes it the deepest in the country.
The Terminal's control tower and six transfer towers are rated as the most efficient in their field. In addition, the terminal has a yard with a storage capacity of 1.9 million tons.
After 23 years of operations, on April 27, the project received its 1,000th vessel. This milestone is not only a clear indicator that the work and effort of the collaborators is bearing fruit every day, but also of the passion that each one of them puts into their daily tasks to satisfy the electricity needs of the port of Lázaro Cárdenas and all its inhabitants.
For his part, one of the project's long-time workers, Wilmer Velázquez, Shift Manager, commented, "I have the good fortune to have been here since April 1998, from construction, start-up and operation, and since then we have received 1,000 ships, consolidating a figure of more than 100 million tons unloaded".
Finally, Mr. Luis Roberto Rodríguez Jáuregui, Project Manager of the plant, concluded, "I am grateful to each one of the collaborators for being part of this great history for Carbonser, reaching 1,000 ships is a very significant figure and we should be proud of it".
Video on the arrival of the 1,000th ship: