Automation in the construction industry: Lower risks, better quality and higher productivity
Published 21.3.2022
As we look to the construction industry of the future, it's already apparent that automation will occupy an increasing role in our construction processes. What has been done so far? And what are the main challenges?
How many times have we seen footage of automotive plants that are fully automated, where people only intervene in specific tasks? Will it be possible to achieve something similar in engineering and construction projects?
At Techint Engineering & Construction, we're always at the frontier of new developments, and this is no exception. Our Innovation and Operations teams have been analyzing and developing new and more sophisticated automation mechanisms for construction processes, and some of these have led to very promising results.
"It's all about reducing risks, increasing productivity and eliminating repetitive tasks. What we are already seeing in factories of all kinds around the world must be adapted to our projects, where we face an additional challenge: on-site conditions vary hugely and they are not controlled environments. Many are also difficult to access when it comes to transferring equipment and technical assistance," explained Alejandro Aguirre, Head of Innovation and Knowledge Management at Techint E&C.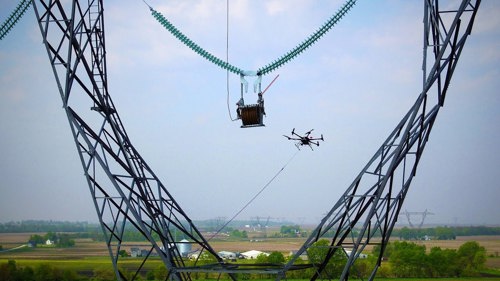 The good news is that more and more on-site construction tasks are being automated around the world, from providing workers with mechanical assistance to deploying fully autonomous equipment using artificial intelligence.
Advances in robotics, communications systems and geographic referencing; engineering using data and three-dimensional modeling, have all increased the number of devices and mechanisms on the construction site, automating more and more tasks.          
This is why it's vital to take these new methodologies into account when designing and planning projects and works areas. If robotization or mechanization issues can be included early on (right at the offer stage if possible) this will help us achieve the best implementation possible when executing the work.
Achievements and future challenges
A clear example of on-site automation where the company has been working for several years, although there is still some way to go, is our precast piping workshop system. For years, these workshops have functioned independently in different regions until today, as we have achieved a state-of-the-art proposition, currently being piloted at the Dos Bocas Refinery in Mexico.
In civil works, the mechanized assembly of reinforcing elements has also been evolving throughout the projects thanks to new market methodologies which have yet to be tested. We have also successfully trialed 3D printing technology for reinforced concrete, and we are making progress in the transition towards the assisted operation of earthworks equipment using GNSS systems. We have identified other technologies which we will be exploring, such as the georeferenced driving of metal piles (for solar farms and guardrails), assisted concrete pouring, the autonomous smoothing of concrete flooring, autonomous masonry tasks and using painting robots for internal partitions, among many other applications.
As for pipelines, Techint E&C has been implementing technologies such as automatic welding equipment, automated sandbag filling, mechanized pipe coupling (the Tenlock® system) and special equipment for transporting pipes through tunnels. We are also venturing into the application of thrusting equipment to launch welded columns down tunnels and slopes, special trucks to apply internal linings in large diameter pipes, autonomous trench diggers and rock crushers that work inside the trench, and a system of mechanized exterior cleaning for welded joints.
In all of these areas, the main objective is to find alternatives that simplify or reduce safety risks, such as autonomous lifting equipment attached to the scaffolding structure, semi-autonomous equipment for drilling slabs to place supports, or even using drones to lay the guides and hoist conductors between high voltage electricity pylons.
Automation in construction is already with us. We need to continue making headway by adopting technology that allows us to make a difference by building more safely and efficiently, meeting even higher standards of quality.