Techint, INSTM and Politecnico di Milano are working together for industrial development of new technologies for energy transition
Published 7.6.2022
Techint E&C , the Consorzio Interuniversitario Nazionale per la Scienza e Tecnologia dei Materiali (INSTM) and the Politecnico di Milano - Dept. of Chemistry, Materials and Chemical Engineering "Giulio Natta" (CMICPolimi) have signed a 10-year framework agreement that provides for exclusive collaboration for the industrial development of technologies in the field of circular economy and energy transition.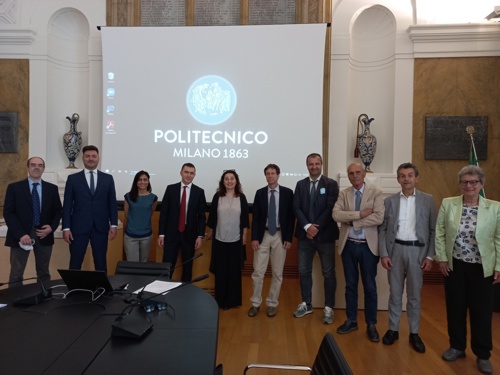 The first technologies that will be industrialized are GASIFORMING™ (process for thermocatalytic conversion of Plasmix or non-recyclable heterogeneous plastics to methanol) and RECS™ (new reactor for direct conversion of biogas/syngas to methanol or dimethyl ether - DME).  INSTM and Politecnico di Milano are co-owners of the patents on both technologies.
The agreement will promote the scientific and technological transfer of research results accrued within the INSTM network and the Politecnico di Milano thanks to the specific skills of Techint, an Italian company engaged, among other activities, in the design of high-tech plants based on innovative processes starting from laboratory-level prototypes and pilot plants.
The agreement provides for the sale of user licenses and basic plant design, Basic Engineering Design Package, and the supply of proprietary equipment.
The innovative GASIFORMING™ process exploits a new thermo-catalytic treatment technique to convert a mixture of non-recyclable waste plastics (so-called plasmix) into syngas, a mixture of hydrogen and carbon monoxide) required for synthesis into methanol and/or DME. Due to the milder operating conditions of normal gasification, although in the co-presence of oxygen, the process ensures significant conversion to product with a significantly reduced environmental impact compared to other thermal processes, pyrolysis or gasification, in terms of CO2 production. One ton of a common Italian plasmix allows the production of an equal amount of methanol to specification.
RECS™ technology consists of a novel catalytic reactor configuration for non-isothermal synthesis. The device allows for energetically intensifying chemical syntheses that require considerable heat exchange, either by heating or cooling. In particular, chemical syntheses for the production of methane, methanol or DME, fossil or bio makes no difference, lend themselves particularly well to the application of RECS™. This proprietary equipment can, therefore, be integrated into any synthesis process by increasing its yields, energy efficiencies and, thus, promoting sustainability and reducing environmental impact.