The Energy Transition: our technical-commercial mission to Canada
Published 8.7.2022
Delegates from Techint Engineering & Construction took part in a technical-commercial mission to the province of Alberta, Canada, to visit some of the carbon capture facilities in the province and share experiences with specialists in this area.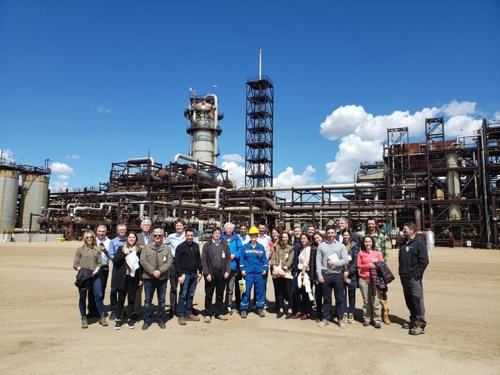 A delegation from Techint E&C traveled to the province of Alberta as part of a technical-commercial mission organized by the Canadian Embassy in Argentina to visit CO2 capture, transport and storage facilities and meet experts in this field to discuss their experiences.
Lasting from June 6 to 10, the mission had a packed agenda of meetings and tours, enabling the delegation to visit various different companies currently working on energy transition issues as well as the University of Alberta, which has research laboratories working specifically on carbon capture and storage (CCUS).
The group traveling to Canada was part of a larger delegation comprising representatives from Compañía General de Combustibles (CGC), Pan American Energy (PAE), Spark Energy Solutions, Transportadora de Gas del Sur (TGS), Y-TEC, YPF and Shell.
In addition, the Techint E&C delegation took advantage of their trip northwards to visit the United States and participate in the Carbon Capture Technology Conference & Expo North America and the Hydrogen Technology Expo North America, both of which were held in Houston, Texas from June 14 to 16. Both events showcased the latest developments in technology in the areas of CCUS as well as hydrogen production from water electrolysis, and included Tenaris among their sponsors. For the industry, this is one of the top technical events on its calendar, an opportunity to get up to speed with the latest developments in the highly topical area of CCUS, which also featured input from representatives of Tecpetrol and Tenaris.
"During our trip, we were able to appreciate the exponential growth taking place over the last two years in carbon and H2 capture projects which are already up and running in developed countries. It goes without saying that this will soon may be applied in Latin America, and at Techint we must be ready to accompany those companies that are willing to make the change. We know that carbon capture projects require large volumes of energy and utilities for their operation and this means that we can apply all the experience we've gained in the power plant segment where the needs are very similar," explains Hernán Milberg, Energy Transition Manager.