Women in industry at the O&M project in Neuquen
Published 17.3.2022
We welcome our first four women workers to the O&M project in Neuquen: Daniela Mardone, Agustina Fariña, Priscila Tillería and Daniela Pichel.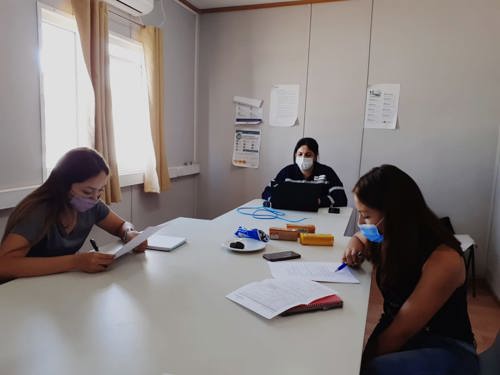 The Techint E&C team providing O&M services in Neuquen, known as the PGP PETROAIKE joint venture, are working side-by-side with Tecpetrol to guarantee the continuous, safe and efficient control of different production processes in the fields. In January and February, the team was joined by Daniela Mardone, Agustina Fariña and Priscila Tillería who went into Maintenance while Daniela Pichel did so in Operations. They were all welcomed for an induction training course by Human Resources and the Health, Safety and Environment (HSE) department, and had the opportunity to find out more about issues related to the oil industry.
Fabián Haag, Leader of the Operations Service at Fortin de Piedra, Carlos Galdame, HSE Coordinator at Agua Salada, and Romina Ocampo, from the Human Resources department, took part in the induction and admissions process.
"Despite the COVID-19 pandemic context, which is still affecting our activities, we set ourselves the goal of achieving diversity in the oil industry. So for us, these latest additions to our team are very important and a source of great satisfaction," explains Sebastián Leurini, Head of Human Resources for Techint E&C at the Neuquen Basin operations.
"I feel very comfortable in the position I currently hold, as both my colleagues and bosses are continually encouraging me and helping me with what I need to know. I'm very attracted by the possibility of traveling to different sites and learning new things," highlights Daniela Mardone, who is working in the Electricity sector. As for Agustina, she's also very enthusiastic about the experience, because, "it means a lot to me, as my first job in the industry—and it's a dream come true! I will always be grateful for the warm welcome we've been given, and intend to do everything I can to learn and improve every day!"
Romina from Human Resources explains that "it's vital to do away with the myth that women can't work in an industry traditionally dominated by men, and show that we can add significant value to the sector. Future generations will continue to deepen this transformation, so it's key to ensure there is the right influence to bring about a change in mindset at all levels."