Taking the route towards sustainable quality
Published 15.12.2021
Techint Engineering & Construction has just held its latest annual Workshop on Quality, Environment, Health, and Safety, which ended with a panel featuring company CEO Carlos Bacher and members of the Management Committee as well as senior executives from DuPont, PEMEX, Toyota, Ternium and Pampa Energía, among others.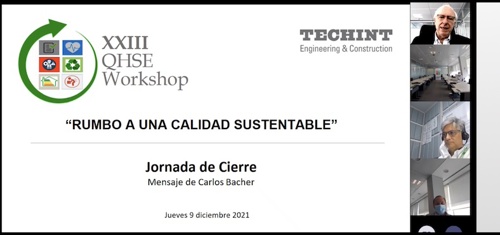 The company's 23rd Workshop on Quality, Environment, Health, and Safety was held on December 6, 7, and 9 with the participation of over 700 attendees, centering on the theme of "Towards sustainable quality".
This was an opportunity for people to work together, reflect, network, and learn as they took part in a constructive debate on key issues for the company: quality, sustainability, and energy performance.
Techint E&C has been holding its QHSE Workshops ever since 2004. This year's edition was organized into three sessions: the first day covering Health and Ergonomics, the second on Quality, Sustainability, Energy Performance and Prevention; and the third being the closing day, featuring CEO Carlos Bacher, and members from the Management Committee as well as input from different customers.
Alejandro Sarubbi, the company's Corporate QHSE Director, said that "We are facing the challenge of achieving sustainable quality throughout the company's processes and projects, based both on ensuring all our employees receive proper training and on having the right planning in place, which ensures our project execution programs run smoothly without deviations and are subject to the right controls. Sustainable quality is the route towards operational excellence and high standards, and there is no doubt that this marks and enhances Techint E&C's work throughout its contractual obligations. This is where we bring the values, background, and professional and management experience underpinning our Management Policy into play."
"There is no doubt that procedures mandate what and where we have to manage things and provide us with the framework to do so. We must be rigorous in the way we carry out our business," said Carlos Bacher in his speech towards the end of the Workshop.