Site safety at your fingertips
Published 28.10.2021
Techint Engineering & Construction is rolling out a new phone app, QHSE Mobile, which captures, records, and sends prevention activities to a dashboard. Here the information uploaded by the cell phone is summarized before it is forwarded to the system centralizing all of the company's project preventive management efforts.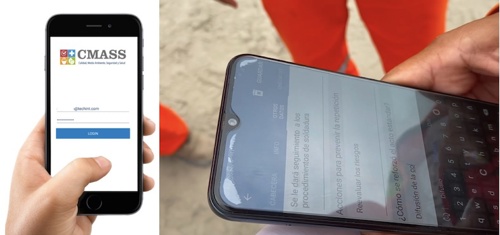 The idea is to make the process involved in uploading prevention-related activities for projects a more versatile and dynamic one. The new tool is QHSE Mobile, an application that also allows users to attach photos to the records they send. The entire process can be done from a cell phone; once the employee has connected to the company's network, it is synchronized and the information is automatically sent to the SAP system.
The application also contributes to the company's paperless culture, as all the work originally done using physical records created by people who loaded them into the SAP system can now be done on a cell phone, without intermediaries.
"QHSE Mobile is a tool that can be used by anyone in the company visiting a project, and who wants to flag something if they see it's not right. For this reason, we're calling on more and more people to use it, as safety is something that we all build together," says Miguel Guzman from the corporate Quality, Health, Safety and Environment team, who is in charge of the application.
He goes on to say that "although this application makes work easier in the field, the underlying objective continues to be the same: undertaking tasks with quality and safety and taking care of each other."