Techint Engineering & Construction has received the Excellence Award for its work to prevent occupational risks in Peru
Published 19.8.2021
Seguros Rimac has distinguished the company for its "Best Comprehensive Occupational Risk Management" in 2020, highlighting its effort, commitment and professionalism.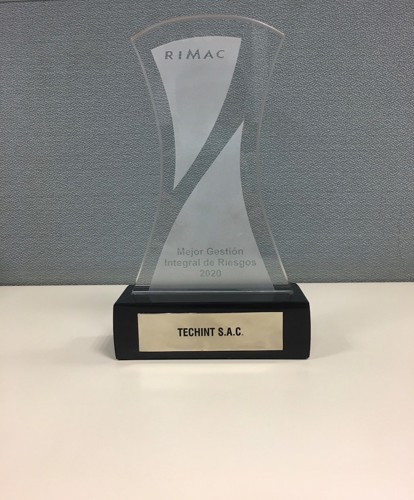 Every year, Seguros Rimac, one of the top insurance brokers in the country, distinguishes organizations for their outstanding performance in employee health and safety with its coveted "Excellence Awards". The awards evaluate a company's commitment to prevention, as seen through its management and control of occupational risks to prevent accidents and occupational diseases.
This is the fifth time that Techint E&C has received the award in the category "Best Comprehensive Management of Occupational Risks".
Some of the criteria taken into account for evaluation in the Occupational Risk category are high standards of safety and health at work, lost time and accident rates lower than the average in the sector to which they belong, and not having had any fatal or total disabling accidents during 2020.
On this occasion, the event was held virtually and attended by Juan Maruri, Commercial Manager in Peru, there on behalf of the company to receive the award. He said: "This award represents the commitment, effort and professionalism of all those of us making up Techint as we strive to maintain and promote a culture of prevention and safety at each project. We are proud to share this with all our employees whose exemplary dedication promotes and strengthens our standards."