We are India: the story behind the Diwali festival
Published 24.11.2021
Cultural diversity is a distinctive feature of Techint E&C's corporate philosophy. The company has strong roots in the places where it operates, and people of different nationalities come together, crossing borders to make unique projects a reality. We present a series of articles about our customs, roots, cultures, and beliefs to get to know more about each other and strengthen the bond.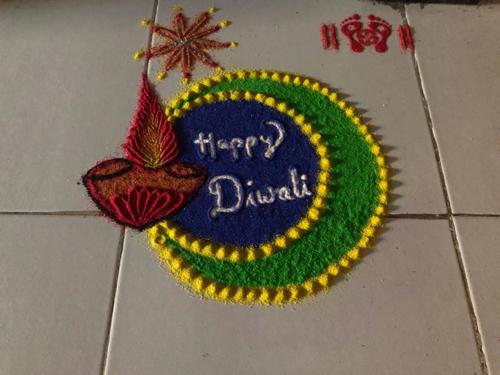 We now must travel from Mexico to India to leave behind "Día de Muertos" and welcome the Diwali festival, the most important holiday of the Hindu religion. Also called "Dipawali" (row of light), the festival gets its name from the row (avali) of clay lamps (deepa) that Indians light outside their homes to symbolize the inner light that protects them from spiritual darkness. Every corner of the city is decorated with multicolored lights and Techint in India is not the exception.
"The last day before the holiday we decorate our office with lighting and lanterns, as well as a huge rangoli is created on the floor at the entrance", says Mehul Panchal, senior engineer of the Civil Department. The "rangoli" are design patterns on the floor using colorful powders or sand. It is said that it increases positive energy and brings good luck.
Diwali is definitely a celebration rich in history and customs, worth seeing in person, either at the Techint offices or on the streets of the city. 
"We celebrate Diwali with a new beginning, new clothes, and new elements, decorating the house with a lot of lights, lanterns and "diyas" (a small cup-shaped oil lamp made of baked clay) placed near the entrance and near windows giving a feeling of happiness", explains Mehul.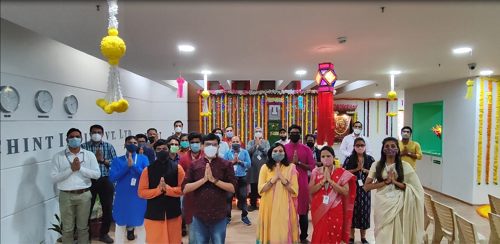 This festival is as important to Hindus as the Christmas holiday is to Christians, but over the centuries, Diwali has become a national festival that's also enjoyed by non-Hindu communities. Diwali symbolizes the spiritual victory of light over darkness, good over evil, and knowledge over ignorance. It commemorates Prince Rama's triumphant return to the kingdom of Ayodhya after 14 years of exile (refers to Indian mythology-Ramayana). 
Bharati Bhange, piping designer, claims: "For me Diwali is the time when all my family comes together with an enthusiasm of a new beginning. Where we share joy with each other by offering sweets and exchanging gifts." This festival takes place all over India with some differences depending on the region but in all cases "it is a time of joy, when we gather with our loved ones, celebrating with friends and family", says Mehul.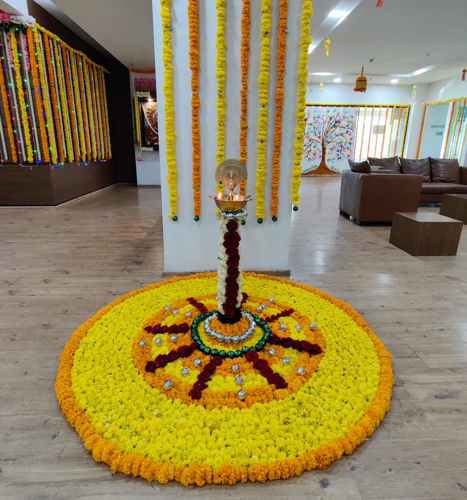 Lights, colors, food, family, and best wishes build the spirit of this unique celebration. Although its date varies according to the Indian lunar calendar, this year it is held in November and always lasts for five consecutive days. 
During the first day, people clean their houses thoroughly and buy kitchen utensils and gold for good fortune. On day 2, they decorate their houses with lamps made from clay and create rangolis. On day 3, the main day of the festival, families gather for "Lakshmi puja", a prayer to Goddess Lakshmi, followed by mouth-watering feasts and firework festivities. Day 4 represents the first day of the new year, when friends and relatives visit each other with gifts and best wishes for the season. On the last day, brothers visit their sisters, who welcome them with love and a lavish meal. 
Local customs and (a lot of) special food
"For clothing, women wear elegant sarees made from a variety of materials like silk, crepe, chiffon, and velvet. Men dress in classic but contemporary kurta and dhoti, and young girls wear brightly decorated costumes called 'lehengas'", tells Bharati.
During the festival, people eat a lot of food, especially sweets. "Indian sweets, or 'mithai', are a little different from candies and desserts you might find in other countries, as they are often considered more like 'sweetmeats'. Many use nuts or vegetables as a base, condensed down with sugar and maybe milk" explains Bharati. And Mehul adds: "'Gulab Jamun', which is sort of a donut marinated in sweet sugar syrup, is my favorite one".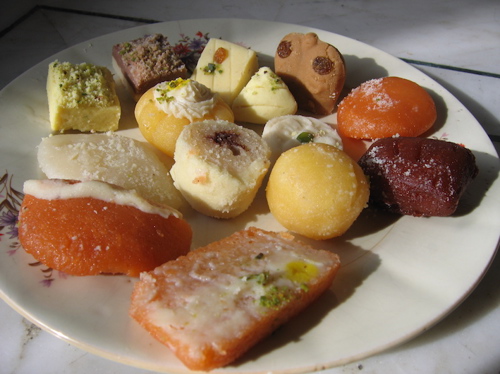 Special foods are prepared during these days like "chakli", a very popular snack made using rice dough and different types of lentils. There are also snacks served along with curries, fried foods, or those using ghee. 
Back in our Indian office, Mehul explains: "We pray to Lord Ganesha's idol for better health, money, protection, and of course, good projects throughout the year. Also, sweets are distributed among the staff, and wishes are shared before we leave for the holidays", he concludes.