New support for our communities as they battle COVID-19
Published 15.7.2021
As part of its commitment to support the communities where it operates, Construcciones y Prestaciones Petroleras S.A. (CPP) - Techint E&C has just delivered biosafety kits containing materials and medical supplies to hospitals in Shushufindi and Orellana, in Ecuador.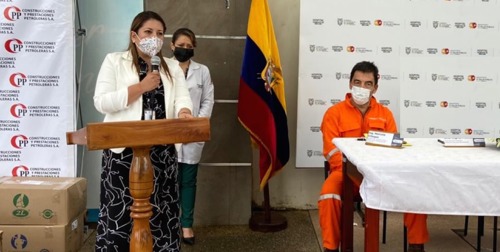 CPP - Techint E&C has made a round of new donations to help hospitals continue their fight against COVID-19, specifically to the District Health Directorate 21D04 in Shushufindi and the Francisco de Orellana General Hospital.
The donations for the Shushufindi Basic Hospital were handed over on June 29, and Rafael Marchetti, the CPP Construction Manager at Block 57, was present to highlight the company's commitment, and explain how "since the beginning of the pandemic we have sought to carry out specific actions to accompany our communities at this time." He also drew attention to the need to shore up safety measures and be alert to the new variants of the virus. 
Franklin Mercado, the Political Chief of Shushufindi Canton thanked CPP for its actions, saying that: "It's a pleasure to have you with us and we are very appreciative of the ongoing support you have provided throughout the pandemic. You were the first to get here with technical assistance and food kits to save lives. Thank you for all the efforts you continue to make. You were pioneers and stepped up before anyone else, saying here we are, ready to help the people of Shushufindi Canton."
On June 30, 2021, it was the turn of the Francisco de Orellana General Hospital, where Marcelo Villegas, the CPP Construction Manager at Block 61, delivered medical supplies to the hospital director, Ingrid Palma, who responded with these words: "As a Hospital we are delighted to receive this support. Just one year ago saw us facing a highly complex health situation, with no facemasks or adequate protective clothing. Today, thanks to everybody's help, we have managed to turn this around. We thank CPP for this donation which will go to helping professionals on the front line and enable us to offer better services to our citizens."