Looking to the education of the future
Published 1.4.2022
The Chilean Ambassador to Argentina, Nicolás Monckeberg Díaz, toured the Roberto Rocca Technical School in Campana, accompanied by Techint Engineering & Construction CEO Carlos Bacher.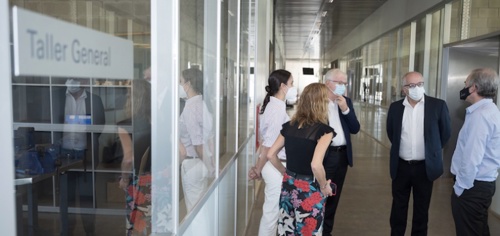 In the context of the strong historical ties between Techint E&C and Chile, which go back seventy years and center on major projects developed in the mining and oil & gas segments, the ambassador of that country to Argentina, Nicolás Monckeberg Díaz, visited the ETRR in Campana, accompanied by Carlos Bacher, CEO of the company.
As the ambassador had previously expressed interest in finding out more about the educational programs pursued by the Techint Group, the best place to start was at the Roberto Rocca Technical School.
ETRR Director Ludovico Grillo showed the ambassador around the facilities and workshops, commenting the reforms under way to convert the classrooms into "learning spaces, where we no longer have all the desks facing the teacher and a single blackboard, but groups of tables, comfier chairs, and blackboards on all four walls."
The delegation was accompanied by Erika Bienek, the Techint Group's Global Director of Social Development, who took the opportunity to talk about the range of initiatives being carried out by the organization at global level.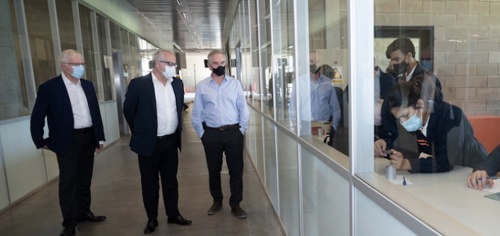 "For us, education is a vital tool for individual and social progress: through education and a culture of effort and self-improvement, we can achieve long-term sustainable development," said Bienek, explaining that the Group works in fifty-five communities in nineteen countries, reaching over 19,300 people with its educational programs. As for the ETRRs, she pointed out that there are currently two schools, one in Campana, Argentina, and the other in Pesqueria, Mexico, although the Group has plans to expand the network to other countries where it is present.
"The ambassador's visit is a major incentive to strengthen actions benefiting communities in Chile, reinforcing our commitment to the country's development as a whole," said Bacher.