The Roberto Rocca Scholarships have arrived in Peru
Published 24.2.2022
Eight students from the Pontifical Catholic University of Peru have received Roberto Rocca Scholarships, the awards created by the Techint Group to contribute to equal opportunities and social progress through support for education.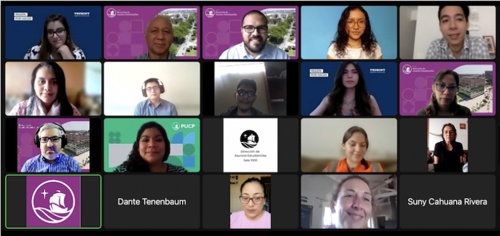 The Roberto Rocca Scholarship Program was launched in Peru in 2021, with the application period running from June to November. This was the time for high-performing students of limited economic resources studying Mechanical, Civil and Mechatronics Engineering at the Pontifical Catholic University of Peru (Pontificia Universidad Católica del Perú - PUCP) to send in their applications. The awardees were finally selected on the basis of their academic achievement, financial situation, leadership potential, and commitment to their community.
The scholarship provides students with a monthly economic contribution to pay tuition fees and offers mentoring sessions given by Techint E&C engineers, according to their different specialties. The awardees can also benefit from the opportunity to meet their peers from other countries and visit some of the company's projects.
"In our country, it's really difficult to be able to finish your degree course and become a professional," explained Daniel Alipazaga, a Mechatronics Engineering student, during the scholarship award ceremony that took place online on January 26, 2022.
"It's incredibly gratifying to know that all the effort, dedication and perseverance you put in has been rewarded. This contribution, beyond the fact that it offers substantial economic relief to mitigate the difficult situations we each face, is an act of solidarity showing commitment to us students and our families." Daniel spoke to the assembly invited to attend the ceremony and its online audience, and ended his speech with a message for his fellow students: "Never give up when you fail. Developing your ability to overcome adversity makes you stronger, so always aim for the top. Remember you are always capable of achieving your aspirations and fulfilling your dreams."
Eight students from the Pontifical Catholic University of Peru were awarded scholarships: Joshep Geri Zanabria (Civil Engineering), Daniel Yssak Alipazaga Lazo (Mechatronics Engineering), Alejandro Jesus Cabrera Huaycochea (Civil Engineering), Fabiana Carrion Sanchez (Mechanical Engineering), Fabiola Beatriz Diaz Salinas (Mechatronics Engineering), Mariaceleste Fernandez Rios (Mechatronics Engineering), Dayana Lorena Granados Cahuana (Civil Engineering) and Andre Huaman Lara (Civil Engineering).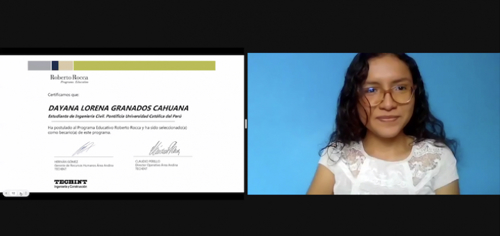 The students and their families were joined by PUCP authorities and Techint E&C executives who participated in the event, including Claudio Perillo, Operations Director of Techint E&C of the Andean Region; Hernan Gómez, Human resources manager; Tania Burstein, Head of Community Relations Andean Region, and Kaori Kanashiro, Human Resources Analyst, Peru.
In his speech, Perillo took the opportunity to remind the audience that the company's presence in Peru dates back to 1975, when it built the Norperuano Pipeline, and he briefly reviewed the different projects that the company has contributed over these years to the country's economic growth and development.
"It's an honor for us to be able to implement this program in an institution of the caliber of the PUCP, and help these students, who have been selected for their academic achievements and efforts, to overcome challenges and be able to pursue their studies," he said.
Tania Burstein added that, "Our passion for doing things as well as possible is what motivates us in our constant search for progress, through individual and collective effort."
For Techint E&C, education is the main driver of personal development and underpins the transformation of society as a whole. It provides support through the Roberto Rocca Scholarship Program by awarding scholarships to outstanding young people with grit and determination, to give them the opportunity to access top-quality education and better employment options.
Although the initiative has been going in several countries for over fifteen years, it is only now being introduced in Peru, and was extremely well received by the next generation of engineers in this country.
The PUCP also shares the vision that education is vital to improve people's quality of life and society in general, as, in the words of its Director of Student Affairs, Rocio Espinel, "this is a day to celebrate: there is no doubt that education is transformative, changing people's lives and realities for the better. I am enormously grateful that a company like Techint E&C is helping us to bring this about."
For more information about the Roberto Rocca Scholarship Program, please click here.