"Helping is in our hands": Techint E&C Health Day
Published 31.5.2022
In the early morning of a Sunday, a team of collaborators of Techint E & C is preparing to attend the Health Day in the ejido Occident San Francisco, in Paraíso, Tabasco, the municipality and epicenter where the Dos Bocas Refinery is being built.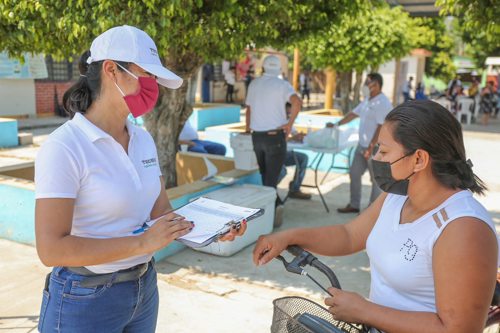 The objective is unique and important: to contribute to the benefit of the communities where we develop our engineering works. It is not just a program within the Social Management Plan of the Northern Area, it is altruism in its pure state and that derives from our Passion to Do.
In Techint, the desire to help motivates us to give the best of ourselves, there is no work that we build without first leaving a positive mark on the children, men and women who reside in the communities that open their doors to us.
"It is a social objective, contributing to health care is an initiative that Techint promotes with force to contribute to improving the quality of life of people in the communities of Paraíso, in this way it benefits the neediest families by bringing the services with which we also contribute in the care of their economy", says Juan Pablo de los Santos, Coordinator of Community Relations, in Dos Bocas.
"We work in unity and coordination with the system of Integral Development of the Families of Paraíso, to positively impact this common goal, which we share by conviction and develop with great commitment," he adds.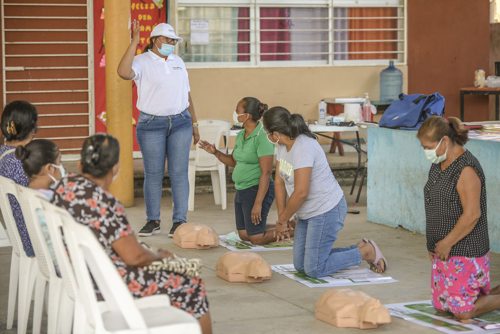 Before nine o'clock in the morning, in the state rural primary school "President Madero" a group of collaborators of the municipal DIF system joins and that is when the synergy becomes something unique, they are ready to make a team, all help to prepare the registration areas, medical care, health talks, physiotherapy, haircuts and one more enabled for children to perform leisure activities.
Just before nine o'clock in the morning whole families arrive, the doors open and immediately the team of doctors of Techint has no respite, people look for them and trust them, in their knowledge and experience. One by one the citizens go to the consultations, patients and doctors dialogue while the human and satisfactory feeling of doing something good for someone else is awakened, that is priceless and people appreciate it.
"For many people, going to a medical consultation is not within their reach due to economic terms, the fact that Techint is helping to solve a need is very valuable, what they are doing is something very human and in the community we are grateful for it," said Ana Luisa Pérez, delegate of the ejido.
The areas are enabled, children color drawings and have fun while their parents receive a talk-training on health or cardiopulmonary breathing. There are smiles in the haircut area, a boy wants the flush cut while his little sister wants only her long hair to be undulated, "no cut please, just my hairstyle," she says. Meanwhile, in the office doubts about a medical issue are dispelled to give way from restlessness to tranquility, while right next door physiotherapy sessions are held… everything is going very well!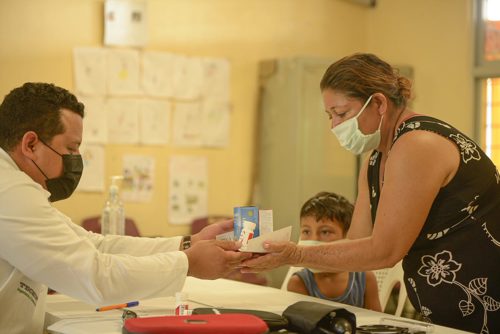 It seems that the time will not reach four hours of uninterrupted work, however, almost a hundred citizens were served. You feel a climate of good spirits, of companionship, collaborators of Techint and the DIF did not know each other before, but it gives the impression that they work in a coordinated way for a long time, and it is not that, it is that when you collaborate for the common good there are no barriers that prevent you from consummating a generous work.
Evelyn Galicia, Human Resources Development Analyst, and who lived the experience for the first time at the Conference, said that "with these actions a positive impact is generated not only in the lives of the people to whom the services are approached, but also in that of us, so it turns out to be an enriching experience".
"Small actions represent a great help for those who receive them, in my case, I was close to the children who attended, I lived closely with them in leisure activities, the children are usually very sincere when expressing what they feel, then, receiving their frank gratitude is something very significant for me; I am very grateful to the company for allowing me to experience this," she added.
It is time to leave, to return home to rest and be with the family and then plan the next day of a total of 17 in the same number of communities. Children, men and women of different ages leave satisfied by the attention received, while those who gave that attention agree before saying goodbye that the experience turns out to be very pleasant since... "Helping is in our hands."
Techint E&C and DIF Paraíso for the benefit of the community
+100 services performed
+100 medicines delivered
+50 medical consultations made
-          General Medical Consultations
-          Health Talks
-          Haircuts
-          Physiotherapy Assessments
-          Leisure activities for children